Billie Joe + Norah: Foreverly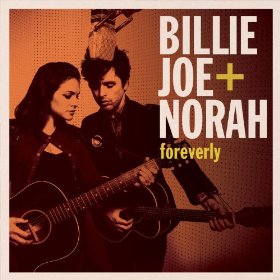 Billie Joe + Norah
Foreverly
(Reprise Records)
An unusual pairing of Billie Joe Armstrong and Norah Jones join voices to pay homage to the Everly Brothers on Foreverly. The punk icon of Green Day takes the role of Don Everly while Jones covers the harmonies provided by the late Phil Everly. (Phil unfortunately passed away shortly after the tribute was released.)
Foverely is a straight rendition of the songs from the 1958 album, Songs Our Daddy Taught Us. Also an odd decision for the duo, the well-known hits "Wake Up Little Susie" and "All I Have To Do Is Dream" are not included in the track list. What is included are slow tempo country folk songs that are much more suited to Jones' repertoire than Armstrong's.
Armstrong does a great job though smoothing out his raspy voice to harmonize with Jones' velvety notes. Nothing can compare to the melodies created by the brothers who had genetics on their side, but the male and female contrast of Jones and Armstrong adds something to the original tracks. The feminine addition particularly stands out in "Long Time Gone," "Who's Gonna Shoe Your Pretty Little Feet?," and "I'm Here To Get My Baby Out of Jail," which sounds written for a female vocal.
Overall, all the questionable choices add up to a well-sounding tribute to the brothers from Knoxville. If you're a long time fan of the Everly Brothers, give this album a try. You may be surprised how well the original tracks sound with a slice of femininity. If you're a fan of Norah Jones, this will bring back memories of Feels Like Home. If you're a Green Day fan, you may want to skip it entirely. If you're a bourbon fan, grab a bottle, press play and enjoy.