Kurt Vile: Wakin on a Pretty Daze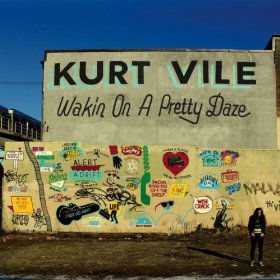 Kurt Vile
Wakin on a Pretty Daze
(Matador Records)
Wakin on a Pretty Daze is a record. Few releases these days really deserve that moniker as their songs feel less like a linked collection and more like a mishmash to clock in at more than half an hour. Kurt Vile is not one of those entertainers; he is an artist.
Accordingly, Wakin on a Pretty Daze feels like it is drawn from another era. "I want to live all the time in my fantasy infinity," Vile says on "Girl Called Alex," announcing a simple manifesto for his creation. Seven of the songs on this album last more than five minutes, with the opening and closing tracks both slicing out about half an hour each. There are times for me personally when things went on a bit too long, such as the repetitive nature of "Air Bud." However, I will absolutely defend Vile's right to jam.
As far as modern peers, Vile's vibe is similar to that of Devendra Banhart with shades of the latest Neil Young and Crazy Horse. "KV Crimes" has a slow, Southern rock feeling, while "Shame Chamber" is my personal highlight with its layered guitars and its catchy "woo" refrain.
You could listen to Wakin on a Pretty Daze as music to zone out to, but it really deserves more than that. It is a work from an artist given a free pass, and he has made something truly striking and timeless.